Cold Laser Therapy in Lutherville-Timonium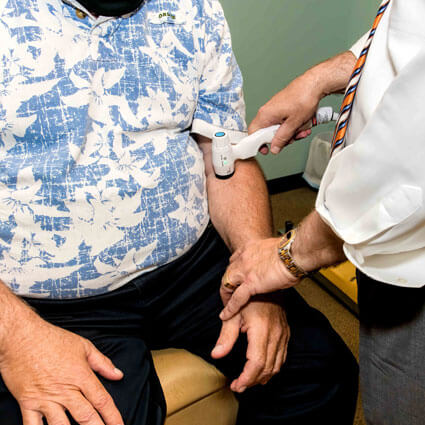 The team at SPINALife offers you effective, long-term solutions for pain relief. When you become a patient with us, we'll evaluate whether you may benefit from laser therapy along with your chiropractic care.
Also known as phototherapy or cold light therapy, laser therapy is a drug-free solution with no known side effects. For more than 35 years, it's been used to reduce pain and speed healing. It's completely noninvasive and most patients report they find it quite relaxing!
The Clinical and Biological Effects of Laser Therapy
When you have laser therapy, there is an array of positive effects that you will experience:
Increases circulation and angiogenesis
Reduces or eliminates acute and chronic pain
Decreases inflammation and swelling
Stimulates and improves nerve function
Strengthens and repairs bone and soft tissue
Increases mobility and muscle function
Appropriate for a Range of Conditions
Research demonstrates that laser therapy can be used to address many conditions. Stimulating the body's natural repair processes using the healing nature of light has been proven particularly effective for certain ailments, such as
Arthritis (rheumatoid and osteoarthritis)
Bone fractures
Bruising
Bursitis
Carpel tunnel syndrome
Decreased circulation in lower limbs
Diabetic foot ulcer healing
Edema
Facial pain
Fibromyalgia and neuralgia
Foot pain, foot swelling, foot bone fractures
Headaches and migraines
Herpes simplex and herpes zoster (shingles)
Inflammatory conditions
Lower back pain
Muscle spasms or tension
Orthopedic implants
Plantar Fasciitis, foot pain, heel spurs and Achilles tendonitis
Postsurgical healing of scars, pain, swelling and bruising
Rotator cuff syndrome
Sinusitis
Spinal disc bulge or herniation
Sports injuries
Sprains/strains
Swelling and edema
Temporomandibular Joint Dysfunction (TMJ/TMD)
Tendonitis
Whiplash neck injuries
Wounds (acute and chronic)
---
Cold Laser Therapy Lutherville-Timonium MD | (410) 560-1880