About Us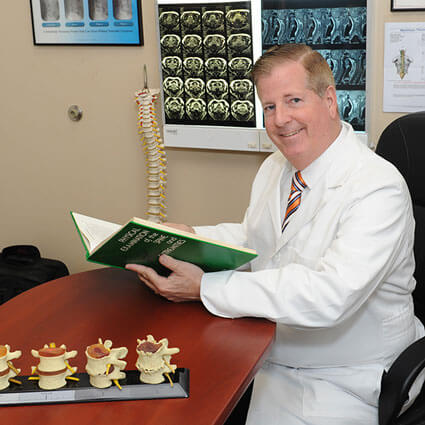 A third-generation chiropractor, Dr. Mitch Adolph graduated from National University in 1979. He then immediately joined his uncle, Dr. Richard Adolph, in practice. Two years later, he opened his own office in Perry Hall, Maryland. He worked there for years before establishing SPINALife in 2004.
At our Lutherville-Timonium office, Dr. Adolph offers proven, nonsurgical and drug-free treatment for neck pain, back pain, headaches and other health problems. Relief is just a phone call away!
Our Philosophy
The body is a self-healing and self-regulating organism. The power that made the body runs the body and heals the body. The nervous system is the master system of the body, transmitting nerve energy to every cell, tissue, and organ. Life flows from above down, inside out, through the nervous system.
Spinal misalignments, called subluxations, interfere with the transmission of nerve energy. As a result, they may cause pain and always interfere with the body's ability to function normally, heal and regenerate.
As a principled chiropractor, Dr. Adolph locates and adjusts subluxations to remove nerve interference, allowing your body to heal itself naturally to the best of its ability.
MEET DR. MITCH ADOLPH »

Our Purpose
To create wellness in our community by helping sick people get well and stay well naturally.
My mission as a chiropractor is to bring joy to myself and others by helping as many families as possible regain and maintain their health by providing the finest in principled family chiropractic care, and by educating my patients, so that they can educate others, about spinal health and wellness.

Dr. Adolph
Our Vision
A healthy, subluxation-free world where everyone gets regular chiropractic adjustments throughout their life, starting from birth.
Your Solution for Natural Health
People are often surprised to learn that chiropractic can help with severe problems, particularly ones that cause debilitating low back pain and sciatica. Sometimes people have had a back surgery that failed or are scheduled for surgery but would like to avoid it if possible. One such case was a patient that had back surgery scheduled in two weeks but saw Dr. Adolph as a last resort.
After starting chiropractic and spinal decompression, the patient postponed the surgery for a couple of months. By the time the patient's plan of care was complete, they were able to cancel the surgery altogether!
Book Your Appointment
Call or email our chiropractic office now to schedule your appointment! Same-day visits are available.
---
About SPINALife | (410) 560-1880